PMCS can replace your fuse box or old consumer unit with the latest consumer unit.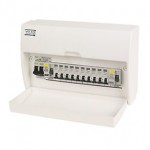 The modern consumer unit is the heart of the wiring system in the home. The unit distributes the electricity, via fuses of one kind or another, to the different circuits in the house.
Removal or replacement of a consumer unit must only be carried out by an electrician qualified to Part P regulation standards.
Our engineers are Part P approved and will install your new consumer unit promptly and efficiently.
We work in strict accordance with guidelines from the Institute of Electrical Engineers (IEE) and the latest BS7671 Wiring Regulations.